According to the Department of Veterans Affairs (VA), roughly 19 million Veterans live in the United States. Each one of those Veterans deserves access to high-quality health care. However, many Veterans live in rural areas or in areas where it isn't easy to get care at a nearby facility. Many others live with health conditions that can make travel difficult.With the support of virtual tools such as telemedicine, smartphone apps and patient portals, Veterans everywhere can access high-quality health care and take an active role in their health and wellness.
Virtual Tools and Their Benefits 
Whether you want to start using video calls to talk to a provider, keep track of your claims information through a portal or use an app to help you sleep, virtual tools can help.
Whether you get your care through VA or a community provider, virtual tools can be a helpful addition to your care. Telehealth involves a range of supportive services including:
Telemedicine – accessing appointments with your providers and specialists through online video and live chat
Secure messaging – connecting with your providers through a secure portal to discuss questions, upcoming appointments, test results and more
Online portals – allowing you to manage your prescriptions, appointments, claims information and more from one convenient location
Online medical records – being able to access your records when you need them without keeping track of huge amounts of paperwork
Mobile apps – finding additional support for various health care concerns through apps on your phone or tablet
Telehealth benefits include:
Connecting with a specialist who doesn't live where you do
Connecting with your providers through online video or live chat to get health care information and results without the hassle of traveling
Staying home if you're sick or have trouble traveling
Limiting the amount of time you need to take off from work or to secure child care
Of course, in-office appointments are still necessary in certain situations and telehealth is not a perfect fit for everyone or every medical condition. Make sure you feel comfortable with the type of care you're receiving. Talk to your provider about what telehealth services are available and which ones may be right for you.
Health Care Management
When you want to play an active role in your health care, you have options. If your health care provider offers an online portal for patients, consider signing up. With an online portal, you can usually use secure messaging to message your provider or a nurse for quick answers, ask for prescription refills, review test results or after-visit summaries, schedule visits or ask for appointment reminders. 
VA's MyhealtheVet is the online portal where you can easily access your personal health information, refill your VA prescriptions, keep track of your appointments, communicate securely with your health care team and more.
TriWest's Veteran Self-Service Portal is a resource for Veterans to stay informed of their community health care in Community Care Network Regions 4 and 5. Eligible Veterans can register for secure access to view enrollment and eligibility information, keep up to date on the status of VA-approved referrals for health care in the community, and view medical, dental and pharmacy claims as well.
Telemedicine
When COVID-19 safety measures went into effect, many health care providers began offering new ways to get in touch. With face-to-face appointments not possible, many providers used video appointments or online chat features to continue to provide patients with the care they needed. Even as COVID-19 restrictions have eased, many providers still offer these features. If you live far away from your health care providers or if travel is difficult – or if it's just easier to talk over video – you can ask your providers about what services they offer. Telehealth.HHS.gov offers information to help you decide whether telemedicine is right for you, as well as what services you can expect and how to find telehealth providers near you.
If you're enrolled in VA health care, VA's Video Connect allows you and your caregiver to meet with your VA health care providers through live video on any computer, tablet or mobile device. VA offers a fact sheet on its telehealth services, which breaks down the telehealth programs such as TeleAddiction, TeleAudiology, TeleDermatology and more.
Mobile Apps
If you have a health care concern that you'd like additional assistance with, searching for a mobile app to help is a good place to start. Mobile apps cover a wide range of health care topics such as insomnia, mental health concerns, smoking, weight loss, meditation and much more. You can find apps that will store your personal health information, count your steps and calories, monitor your vitals and remind you to take your medications. Some health care providers, such as VA, offer apps of their own, but you can also find apps outside your health care system.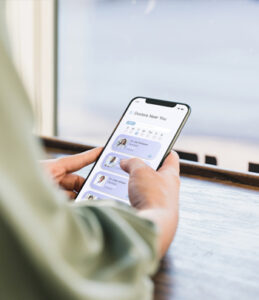 VA's Whole Health offers mobile apps and tools in all sorts of disciplines. Here's a sample:
Check out a more complete list to see which tools to add to your health care journey, including tools specific to mental health challenges.
The CDC also has a list of suggestions when it comes to helpful mobile apps, including:
Milestone Tracker – an app allowing parents to track their child's milestones from age 2 months to 5 years with helpful videos, tips for development, checklists and more
Health IQ – an app that makes testing your health IQ a fun, interactive game
CDC mobile app – an app providing you with 24/7 access to timely, vital health information
Military OneSource also provides a list of recommended apps for health and wellness, including:
Breathe2Relax – an app teaching you the "belly breathing" technique to help you manage stress
Virtual Hope Box – an app helping users with coping, relaxation, distraction and positive thinking through games, mindfulness exercises and more
With a quick search, you'll find even more apps that fit your personal health and wellness needs.
Support
If you'd like to use more telehealth features but don't have access to a stable internet connection or if you're not super confident with technology, there's help. Check out how you can receive help and get started today. In addition, VA's Virtual Health Resource Centers can help you take advantage of virtual tools with training, trouble-shooting help, hands-on support and more.
Whether you want to start using video calls to talk to a provider, keep track of your claims information through a portal, use an app to help you sleep or refill a prescription online, virtual tools can help. Do some research and find out which ones are right for you and your path to health and wellness.