"You can connect directly with military members, Veterans and their families to make a huge, lasting impact."  Leah Love, associate director of community impact, Blue Star Families
While military life can offer incredible opportunities to travel, experience new places and make lifelong connections in different parts of the world, transitioning and relocating into local communities can be challenging for military members, Veterans and their families. It can feel isolating and overwhelming as you wonder about meeting new people, starting over and finding the resources you need to thrive.
Around 600,000 active duty and transitioning military families move each year into local neighborhoods, and Blue Star Families is on a mission to ensure each one of those military members, Veterans and family members feels welcomed and supported.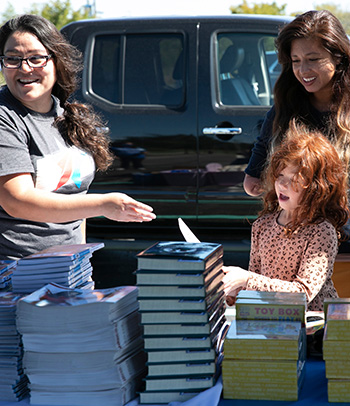 From Sept. 23 to Oct. 1, Blue Star Families runs Blue Star Welcome Week, a nationwide campaign to help military families build a better sense of belonging and community wherever they are.
As Blue Star Welcome Week approaches, we asked Leah Love, the associate director of community impact for Blue Star Families, to share her thoughts on the many ways we can all get involved – during Welcome Week and beyond.
Why It Matters
When military members and their families transition or relocate, it's not just the move itself that can be difficult.
"Military families face challenges such as military spouse unemployment, childcare access and affordability, isolation, food insecurity and the ability to secure health care," Leah shared.
While these problems cannot be solved with a welcome basket, Blue Star Families understands that a sense of belonging is a powerful tool for military members, Veterans and their families.
"A sense of belonging provides a protective factor when dealing with everyday life stressors. Connection in their communities naturally offers solutions to problems military families face and links them with the resources available to help them overcome mental health challenges, financial instability and other hurdles," Leah noted.
The Importance of Welcome Week
There are countless ways to get involved every day throughout the year, but Leah shares that Blue Star Welcome Week is her favorite event.
"It offers something for everyone, everywhere," Leah said. "Whether you live in one of our 13 chapter locations or not, you have an opportunity to connect with others, win amazing prizes from our supporters and discover resources you didn't know were available to help your family."
Blue Star Families makes it easy for all of us to get involved during Welcome Week, including ideas like printing out a Welcome Sign and posting it on social media and hosting an event. Check out Blue Star's Welcome Week Checklist for more ways to get involved. You can also find ways for local businesses and organizations to support Welcome Week, including registering to host a Welcome Week event in your local area.
Reflecting on Welcome Week, Leah says, "It's a great example of how we're continuing the effort to ensure military life is the best it can be."
The Other 51 Weeks of the Year
Beyond Welcome Week, Blue Star Families encourages us to take small steps all year long to continue building our connections and communities. The Welcome Week Checklist includes meaningful ideas that go beyond Welcome Week, such as becoming educated about the challenges facing military families, donating items for Service member care packages or providing networking connections to a military spouse.
"By supporting and getting involved with the 13 Blue Star Families chapter locations, joining our digital community The Neighborhood and participating in our national campaigns, you can connect directly with military members, Veterans and their families to make a huge, lasting impact," Leah explained.
The Neighborhood is an online community for military and Veteran families to get connected in ways that work best for them. There are relevant discussion topics to join, links to upcoming events and interesting blog posts to explore.
Your Participation Matters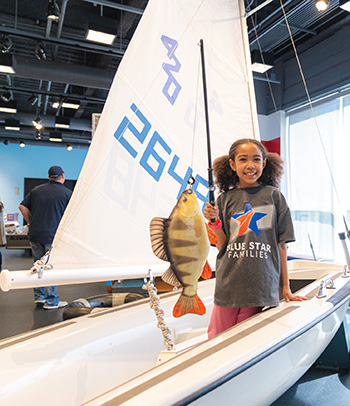 In 2022, Blue Star Welcome Week was extremely successful. Along with long-time supporters and partners like TriWest Healthcare Alliance, and amazing volunteers around the world, Blue Star Families was able to connect with thousands of military and Veteran families, more than double its number of local events and add virtual programming to its lineup.
They'd like to keep that momentum going with support from all of us. "We want to encourage as many people as possible to participate leading up to and during Blue Star Welcome Week so our all-volunteer force and their families can find a better sense of belonging in the communities where they live and serve," Leah said.
Each one of us can make a difference in the lives of military and Veteran families. We can ensure, through efforts big and small, that wherever our military and Veteran families end up, they always feel welcomed, supported and connected to the communities in which they live. How will you support Blue Star Welcome Week this year?
Main article image provided by Blue Star Families.