"They are our nation's heroes, but more than that, there's a real business case for hiring Veterans." Kim Kasle, TriWest Recruitment Team Manager
According to the Department of Labor, approximately 200,000 Service members leave the military each year and return to civilian life. For many, this transition includes the search for meaningful employment.
But Veterans searching for work may wonder – Where do I start? How can I use my military background and skills to start a new career? How will I get hired when I've been out of the workforce for so long?
The nation's heroes deserve our support as they transition into the civilian workforce and on July 25, we recognize National Hire a Veteran Day as a reminder to step up and support Veterans looking for employment.
To honor this day, we asked two TriWest Healthcare Alliance (TriWest) employees to talk about their work in attracting, recruiting and hiring Veterans to our company, and about the special attributes Veterans bring to their work, as well as tips and resources they'd like to share.
TriWest Employees on a Mission to Recruit and Hire Veterans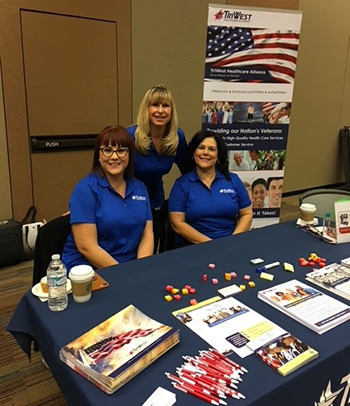 TriWest has a long history of hiring Veterans and military family members, and it begins with a strong recruitment process.
Kim Kasle has managed the Recruiting Team and Recruiting Strategy in Human Capital at TriWest for the past seven years.
"My highly experienced team does 'Whatever It Takes!®' to hire military families and Veterans," Kim shared. "At TriWest, we have created a military and Veteran-friendly culture where hard work, dedication, innovation and service to those who have served is a shared value and the heart of our mission."
This mission begins with the very details printed in TriWest's job postings. "All of our job postings begin with 'Prefer Veterans and Military Families,'" Kim said.
Kim and her team continue their recruitment efforts by reaching out to the local Veteran and military communities through job fairs, Transition Assistance Program classes, Hiring Our Heroes events, and much more.
We also talked with Kristi Bulla, another TriWest employee who's very passionate about the work she does. Kristi was part of the original recruitment team that helped during the start-up phase of the company in 1996. She now serves as the Strategic Workforce Engagement Manager in Executive Operations at TriWest.
"It's truly an honor to attract military and Veteran talent to TriWest," she said.
Kristi finds creative ways to strategically market TriWest as a Veteran-friendly employer in the communities TriWest serves. She works closely with organizations such as universities, Veterans centers, and other Veteran-networking organizations.
She uses these partnerships to help promote TriWest, which ultimately helps fill openings with military and Veteran-connected candidates.
"Recently, several students from the School of Business at the major university where we are based were able to interview with our company, and we're excited that some will soon join our company, including a graduating Veteran," Kristi noted.
The passion these two employees have for attracting, recruiting and hiring Veterans to our company begins at the top.
"Our senior leadership recognizes the inherent value Veterans bring to our company culture," Kristi said.
Flexibility, Loyalty and Leadership: Some of the Skills Veterans Bring to the Table
Both Kristi and Kim understand the incredible value Veterans can bring to an employer.
When Kristi talked about her experience working with Veterans, she noted how many valuable skills they have to offer.
"They're natural leaders and good team players," she said. "They have a strong work ethic and are often loyal, accountable and highly motivated to get the job done right."
Kim highlighted how military experience prepares Veterans to handle workplace challenges. "In the military, members often have to react quickly and precisely, setting priorities to accomplish missions and remain on task and on schedule," she explained. "Adapting to new information in dynamic, high-pressure situations means they are likely to finish and complete tasks without cracking under pressure, even on the most stressful days."
Kim went on to share additional ways military service can translate to important job skills. "Many Veterans have high-level security clearances, a proven record of trustworthiness, and live by a strong code of ethics," Kim said.
Advice for Veterans Seeking Employment
When asked about advice for Veterans seeking employment, Kim shared an important tip. "Use a military skills translator to build your resume," she said. "Often Veterans have resumes that don't highlight the skills they may bring to a civilian employer. For example, infantry may not be a skill needed, but leadership certainly could be." Kim also highlighted the importance of networking. "Networking with other Veterans and understanding how they transitioned can be valuable," she said.
Kristi also had a lot of helpful advice for Veterans ready to join the workforce. Like Kim, her first tip related to networking. "Network with military-connected friends or other Veterans and have them connect you with the decision makers at the employers you're interested in. Ask for an informational interview so you can highlight your strengths and experiences," she said.
She continued, "Use your cover letter, resume and networking conversations to emphasize situations in which you took initiative, demonstrated flexibility and exhibited leadership."
Hiring Veterans Works
Kim and Kristi both know firsthand how special it is to watch the recruitment process from start to finish. During Kristi's initial time as a company recruiter, she had the privilege of recruiting several Veterans, many of whom are still employed with TriWest today.
Kim described one success story of a long-time TriWest employee. "When he got out of the Marine Corps, he wanted to find somewhere to work that made him feel whole again." She shared how the employee used his military training and skills to thrive at TriWest. He started as a temporary worker in 2014 in Information Services and now is the Manager of IT Support.
"He has been successful in growing and managing his department ever since and is coming up on his 10-year anniversary with us!" Kim shared.
Resources for Veteran Job Seekers
Kristi and Kim understand the importance of connecting Veterans with resources and organizations that can ease the transition into the civilian workforce.
They encourage Veterans to seek out resources including universities that often have on-site Veteran Resource Centers that provide student Veterans access to workshops, as well as mock interviews conducted by employers; Hiring Our Heroes, which connects the military and Veteran community with employers through hiring events, fellowship programs and educational workshops; and Onward to Opportunity (O2O), a free career training program that provides professional certification and employee support services to transitioning Service members, Veterans and military spouses.
In addition, there are other resources Veterans can use as they begin their employment search: Disabled American Veterans Employment Program and the Arizona Corporate Council on Veteran Careers.
TriWest's Commitment to Veteran Hiring and Retention
TriWest's deep commitment to military-connected and Veteran hiring makes it an ideal place for Veterans and military family members to find meaningful employment. And in return, TriWest knows the incredible benefits that can result from each new Veteran employee hired.
For two consecutive years the U.S. Department of Labor recognized TriWest with the prestigious HIRE Vets Medallion Award, honoring the company's ongoing commitment to hiring and retaining Veterans. TriWest earned the highest level of Platinum for exceeding hiring and retention goals, and for programs and policies supporting Veterans and military families. The HIRE Vets Medallion Award is the only federal award program recognizing employers who place unparalleled priority on Veteran employment and retention.
When asked to reflect on the importance of her role as a recruiter, Kim said, "They are our nation's heroes, but more than that, there's a real business case for hiring Veterans. The staying power, commitment to task and finishing power are some of the greatest strengths of our Veterans and why it's important for us to hire them."
Let Kim and Kristi's words serve as a reminder to Veterans and employers alike – Veterans are an invaluable addition to the civilian workforce, and they deserve our support to get there.