Nov. 11 marks Veterans Day, a chance for all of us to honor and thank our nation's Veterans for their sacrifice and service to our country. TriWest Health Care Alliance (TriWest) has a proud history of supporting Veterans Day parades in some of the communities it serves. "While TriWest honors Veterans in a number of ways each year through our community outreach efforts, Veterans Day is always special for our staff," TriWest's Director of Customer Care and Community Relations Glenn Gray said. "It's an amazing thing to be a part of – to see the response we get through such a simple gesture of respect."
To highlight the importance of Veterans Day and its celebrations, we share the stories of three TriWest employees and their experiences during their community's Veterans Day parades.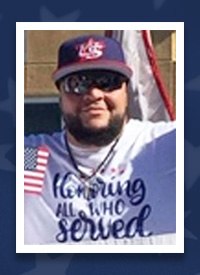 William Kuykendall, TriWest's Director of El Paso Hub Operations, was part of a "lively TriWest team" in El Paso, Texas, this year. As an Army brat and a Navy dad, Will is filled with respect and admiration for our nation's Veterans. "It has always been in my blood," he said.
Since coming to TriWest in 2017, Will has found a mission he takes to heart – "to give back to those that have given so much to the rest of us." For Will and his fellow TriWest employees, part of that mission is participating in the Veterans Day Parade each year. "As the leader of the El Paso hub, it's my role to show leadership by example. I've never missed a Veterans Day Parade in my six years with the company, and I don't plan to," Will said. He noted that because El Paso is a heavily Veteran-oriented community, there's always great participation in the parade.
Will described the atmosphere that day as "awesome." "The streets were filled and the TriWest team was very lively," he recalled. "We passed out 'Thunder Sticks,' and we were a huge hit with the kids as well as the onlookers."
Will understands the deep significance of events like this and the reason TriWest shows up each year. "This gives us a way to show our appreciation for our nation's Veterans and to keep up our community involvement," he said. "We can connect to the community we serve and show that not only are we members of the community but partners to those in need of help."
When asked about the most memorable part of the parade, Will described a moment that continues to give him goosebumps even several weeks later. He and Rene Fonseca, a Veteran and Senior Operations Manager for TriWest, were approached by an older gentleman and his daughter during the parade. "She thanked us and told us that she loved TriWest for helping to save her father's life with our ability to get him scheduled for his medical appointments."
Moments like that make it all worth it. Will and his team appreciate the chance El Paso's parade gives them to honor those who have served and protected us.
Larry Bookhamer, the TriWest Market Research and Planning Manager, was hundreds of miles away in Phoenix, Arizona, but his parade experience mirrored Will's in many ways.
Larry experienced the Veterans Day parade as both a TriWest employee and a Veteran. "Being a Vet myself, I miss the military community and the comradery," he noted. "This is a once-a-year opportunity to be with Veterans from all periods and embrace our support for each other and our country."
This year, Larry and more than 20 other TriWest employees participated in the parade. Larry helped to build the float and rode on it during the parade. For him, this year's parade was the most memorable one he has attended. "My grandson was given the opportunity to ride on the float with me and in his words, 'This was the best day EVER'," he shared.
"This is a once-a-year opportunity to be with Veterans from all periods and embrace our support for each other and our country." – Larry Bookhamer, TriWest Market Research and Planning Manager and Veteran
But it wasn't just that special time he had with his grandson. Like Will, Larry had an emotional, heartfelt interaction at the parade with a fellow Veteran. He described the moment. "A Vietnam Veteran jumped on our float and asked if he could be in the parade. He told me he was in the Air Cavalry in Vietnam and has had to work every Veterans Day since, never attending a parade until now." During the parade, the Veteran was overwhelmed with pride. "He was waving to everyone, saluting and pointing out Veterans along the route. He never stopped smiling and talking, and he often teared up seeing other Vietnam Veterans."
Larry looks forward to Veterans Day and the parade as "an opportunity to acknowledge our Veterans of all generations and to thank them for keeping our country safe." During the parade, Larry was moved by the respect people have for TriWest. "Veterans and others thanked TriWest for doing what we do and for the positive experiences they have had with us." Larry doesn't take this praise lightly. "TriWest is one of the very few organizations with a single mission – supporting our Veterans, active duty and their family members. That is why I am here. There's nothing more important."
Angela Tatupu-Matavao, a Supervisor at TriWest's Pacific Operation Contact Center based in Honolulu, also volunteered her time on Veterans Day. On the island of O'ahu, Hawaii in the town of Wahiawa, she described her experience as "a beautiful, sunny day filled with excitement and anticipation." She said, "Many gathered and lined up to participate and march in the parade. You could hear music being rehearsed, outfits being adjusted, hula halaus (groups) rehearsing and JROTC clubs from various high schools practicing their march."
Like Will and Larry, Angela recognizes the significance of participating in the parade. "I choose to participate for awareness," she said. "Not many understand who Veterans are and what identifies them as Veterans, especially the younger generation. As a representative of TriWest, it is my responsibility to educate and assist in raising awareness of our nation's heroes."
This year marked the 76th Wahiawa Lions Club Veterans Day parade, and the theme was "We Treasure Our Veterans." Angela explained, "The purpose is to let the Veterans know that they are not forgotten and there are many that support who they are. It's important to remember those who served our country and to thank them always for their choice of selflessness."
As Will and Larry shared, the parade was both memorable and inspiring. "The most memorable part of the day was shaking the hands of Veterans that were seated alongside the parade route to watch the parade," Angela reflected. For Angela, it's a day to honor our military Veterans for sacrifices they've made on our behalf.
These parade experiences in three very different places in our country highlight the best of what TriWest employees and Americans stand for. As Larry said, "Reminding our Veterans that we have not forgotten them, that we continue to support them and most importantly, that we will do whatever it takes to support them."