Whether it's preparing a travel itinerary to leave with a friend or learning how to stay safe during a thunderstorm, there are simple measures you can take to keep yourself safe.
Summer brings us warmer temperatures, longer days and lots of great opportunities to get outdoors. Activities like hiking, biking and exploring can be great ways to get out and enjoy the fresh air. But with high temperatures, ticks and other biting insects, it's important to make sure you're keeping yourself safe while you're outdoors.
Whether it's preparing a travel itinerary to leave with a friend or learning how to take shelter during a thunderstorm, there are simple measures you can take to keep yourself safe. Check out the following tips for keeping yourself safe this summer while you're enjoying those outdoor activities:
Know your limits. Before you set off on a hike or a long bike ride, think about what you're capable of doing safely. How much time are you used to being active? What kind of terrain is safe for you to walk on? What level of intensity can you handle? Be sure to select an activity that matches your fitness level.
Check the weather. What kinds of weather might you encounter when you're outside? Is there a chance of rain or storms? How hot will it get? Will the night get cool? Once you know the potential weather, prepare for it. This might mean wearing layers, bringing a rain jacket, carrying extra water for hydration or learning how to stay safe during a storm.
Plan ahead. Whether you're going for a hike in a new area, taking an overnight camping trip or heading off on a bike ride through the woods, be sure to take time to plan and prepare. Here are some suggestions:

Leave a trip plan with someone you trust. Let them know ahead of time where you're going and how long you plan to be gone. This can be extremely helpful if something goes wrong while you're outdoors.
Plan out your itinerary. If you're going for a hike, how long will it take? What supplies will you need? What trail will you follow? If it's a longer trip, map it out ahead of time, so you can think about what you'll need to bring.
Think about what you'll do in case of an emergency. Does someone in your group know basic first aid or CPR? Do you know the area where you're going and what you might encounter (animals, extreme heat, rocky terrain, etc.)? Do you know what to do if someone gets heat stroke or becomes dehydrated?

Pack the essentials. When you're planning to hike, bike or head outside for the day, it's important to have the right supplies. Even for a small hike, you'll need to make sure you have the proper clothing, plenty of food and water, bug spray, and sunscreen. If you're going for a longer trip outdoors, check out the National Park Service's list of 10 essentials to pack, such as a knife, whistle, map, light source, first aid kit, matches and more. Remember, heading out with just a cell phone isn't smart. You may lose coverage or battery power and have no way to use it.
Eat and stay hydrated. Having enough food and water can be lifesaving, especially in high temperatures. According to the National Park Service, if you're active outdoors (hiking, biking, swimming, etc.), especially in hot weather, you should drink water often and before you feel thirsty.
Don't panic. If you're out for a bike ride or a hike and you get lost, don't panic. It's hard to make good, rational decisions when you're extremely upset or emotional. Try to stay calm, stay on the trail and make a plan. The U.S. Forest Service has a lot of tips for what to do if you get lost.
Keep yourself safe from bugs and ticks. Wear long pants, high socks and long sleeves to protect yourself from ticks and insect bites. Use a repellent made to ward off mosquitoes and ticks. The U.S. Environmental Protection Agency (EPA) has a list of effective repellents to use against mosquitos and ticks.
Additional Information on Protecting Yourself from Ticks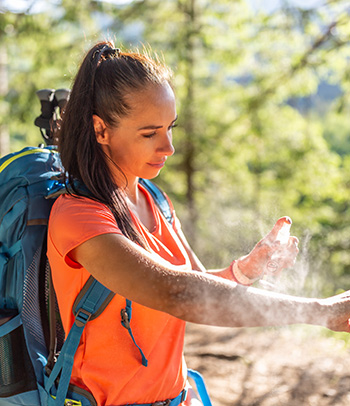 Ticks are most common during the warmer months and are usually found in wooded, bushy and grassy areas. Some ticks can carry bacteria and viruses that can cause disease in humans and animals. Ticks can attach to any part of the body and are generally found in hard-to-see spots such as your scalp, groin or under the arms.
Reducing your exposure to ticks and removing them promptly can protect you from tick-borne diseases such as Lyme disease. Here are some additional tips to protect yourself from ticks:
Know which ticks are most common in your area. The Centers for Disease Control and Prevention (CDC) has interactive tick surveillance maps, as well as detailed information about ticks in different regions of the country.
Stay in the center of trails and avoid walking or biking through high grasses and bushy areas. Ticks can't jump, so they wait on tall vegetation for you to brush past them and climb on. Remember, you don't have to be in the deep woods to encounter ticks. Many people come in contact with them when they walk their dog or play outside.
Wear repellent designed to repel ticks. Check out the EPA's information to find the right repellent for you.
Carefully inspect your body, clothing and pets for ticks after you've been outdoors. The CDC has directions for how to complete a full body check for ticks.
Check your clothing too. Washing or drying clothes on high heat for 10 minutes or more can kill any ticks you picked up.
Bathe within 1-2 hours after being outside to find any ticks before they bite.
Remove any ticks you find by following the CDC's guidelines for tick removal. The CDC offers step-by-step directions and a "tick bite bot" for additional assistance.
Learn about the diseases carried by ticks, including Lyme disease and its symptoms.

Symptoms of Lyme usually appear 1-2 weeks after a bite and early symptoms include fever, chills, muscle aches, headache and rash.
If you're concerned about a tick bite or Lyme disease, reach out to your health care provider to discuss your symptoms.
Additional Resources
With the right planning and preparation, you can safely enjoy all of your favorite outdoor activities this summer!