Every November when our country begins to focus on the upcoming holiday season, it's important to take a moment to reflect on another important national celebration—Native American Heritage Month.
On Nov. 14, 1990, President George H.W. Bush declared the month of November Native American Heritage Month, which is often called American Indian and Alaska Native Heritage Month. This month-long focus gives us a chance to celebrate the rich histories, cultures, traditions and stories of Native Americans, as well as recognize the contributions and sacrifices they have made for this country, despite the many hardships and challenges they've endured. 
The Importance of Native American Service
Native Americans have fought for our country as far back as the Revolutionary War and have served in every war since to help enrich, protect and strengthen our nation. During World War II, their numbers in the U.S. Armed Forces grew significantly and Native Americans, many from the Navajo Nation, used their unique skills to become radio code talkers in the Marine Corps. The Navajo Code Talkers created a code based on their complex language to transmit more than 800 messages that the Japanese and their code experts never broke. For more on this amazing piece of history, check out The Unbreakable Code: Navajo Code Talkers.

In addition, several Native American Veterans' stories are captured in the Veterans History Project and include the lives of Veterans such as Marine Corps pilot Ed McGaa who served in both the Korean and Vietnam Wars and went on to become a published author, and Joseph Biemfohr, an Army Veteran, who was wounded in Iraq and learned not to put limitations on himself even after losing both of his legs. Twenty-nine service members of Native American heritage have been awarded the Congressional Medal of Honor, the highest medal for valor, with the first one given in 1869 to a Sergeant in the U.S. Army named Mad Bear.
These stories give us a peek into the incredible sacrifice and selfless service of Native Americans throughout America's history—service that continues today in every branch of the Armed Forces.
Ways to Celebrate
Throughout the month of November, there are different ways to learn about the influence and importance of Native Americans in this country. Here are a few to consider:
The National Native American Veterans Memorial, which opened in 2020 on the grounds of the National Museum of the American Indian in Washington, D.C., is holding a Dedication Ceremony and Native Veterans Procession on Veterans Day, Nov. 11.  The dedication and procession will honor the distinguished service of Native Americans in every branch of the military.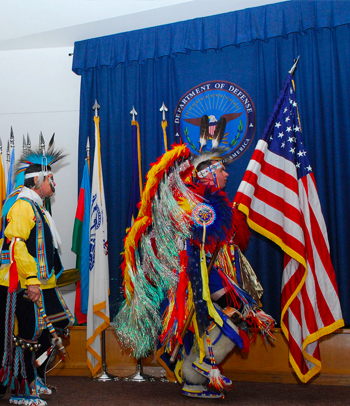 Native American Veterans are invited to participate in the procession from the museum to the front of the U.S. Capitol. You can register as an individual or with a Veterans' group. The procession will also be livestreamed for anyone who would like to watch. The dedication on the National Mall will include seating for Veterans and standing room for the public and will also be livestreamed.
Throughout the weekend, the National Museum of the American Indian will also host hands-on activities, performances and more at the museum. Check out their website for more information.
The National Museum of the American Indian has an exhibit entitled "Why We Serve: Native Americans in the Armed Forces" which you can view online. It highlights the generations of Native Americans who have served in the Armed Forces since the American Revolution.
You can also take a moment to educate yourself about the ongoing hardships and disparities still facing Native Americans in this country today, including disproportionate rates of diseases such as diabetes and chronic respiratory problems, as well as higher rates of suicide, poverty and more.
Benefits for Native American Veterans
On Nov. 14, 1990, President George H.W. Bush declared the month of November Native American Heritage Month, which is often called American Indian and Alaska Native Heritage Month.
According to the Department of Defense, American Indians and Alaska Natives have one of the highest representations in the Armed Forces. The Department of Veterans Affairs (VA) offers Native American Veterans a wide range of benefits and services, which include VA benefits available to all Veterans, such as disability compensation, education and training, health care and much more. In addition, Native American Veterans can learn more about specific VA benefits and programs such as:
This November, during National Native American Heritage Month, take the time to honor past and present Veterans who have bravely served our country and educate yourself on the contributions these men and women have made in all aspects of our society.